Campanula: A colourful plant that continues to flower endlessly
The abundant display of flowers produced by the Campanula Addenda® is the star attraction of your garden. With their classic and cheerful appearance, the Campanulas from Addenda® are perhaps the most rewarding plants you could imagine.
Campanula Addenda®
Campanula flowers several times a year for several weeks and is hardy. Since the plant flowers repeatedly and for a long time, bees are guaranteed food from March through October. Campanulas are a good fit for any garden thanks to the many varieties and colours.
Enjoy a flowering garden and patio with Campanula Addenda®:
flowers 3-4 times a year for about 4-6 weeks, for many years
is hardy and will continue to reward you for years with its beautiful flowers
put your Campanula in the garden and the bees will follow!
is an evergreen plant, perfect for a year-round green garden
Campanula Addenda® is available in two varieties: Campanula Ambella® and Campanula Adansa®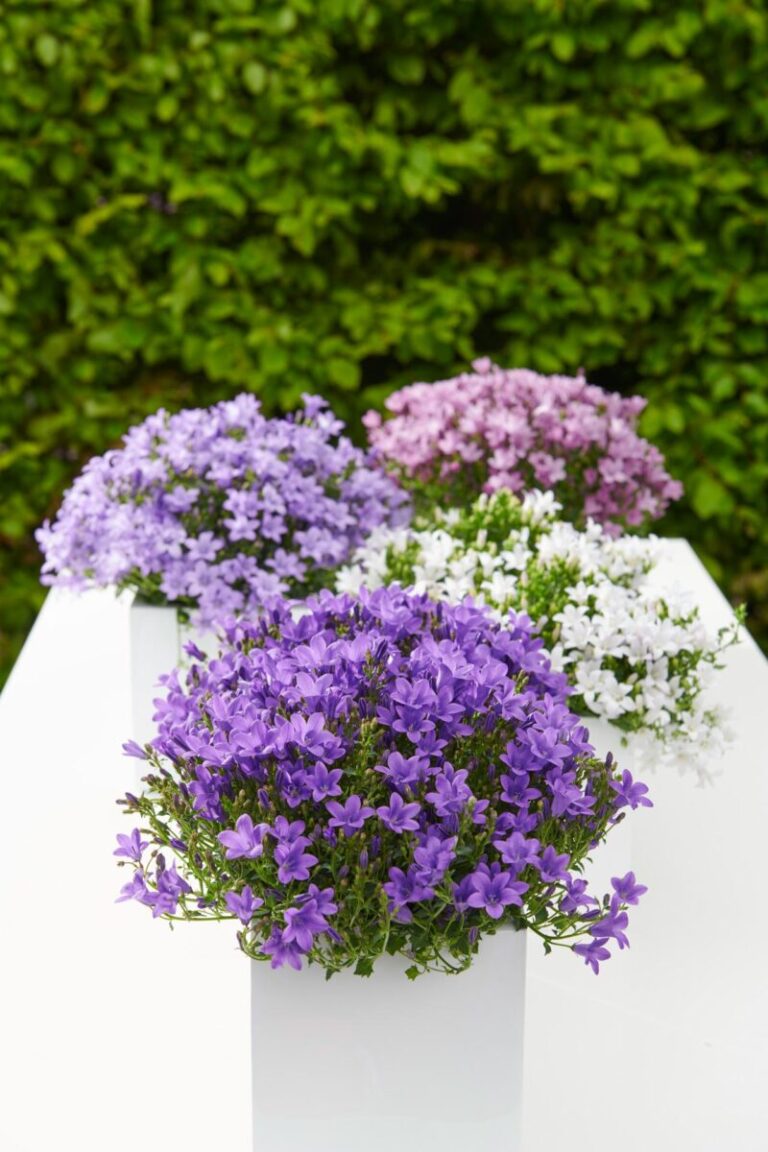 Enjoy a flowering patio
Campanula Ambella® is a classic plant with bell-shaped flowers. Ambella® is characterised by its spherical and compact flowers in four beautiful colours: Intense purple, Lavender, White and Pink.  Campanula Ambella® looks great in a large decorative patio pot or in a bowl on the table. This prolific bloomer also thrives in a border. You can keep Ambella® indoors for a while in early spring. After flowering, plant the plants in the garden and you will enjoy them for years to come!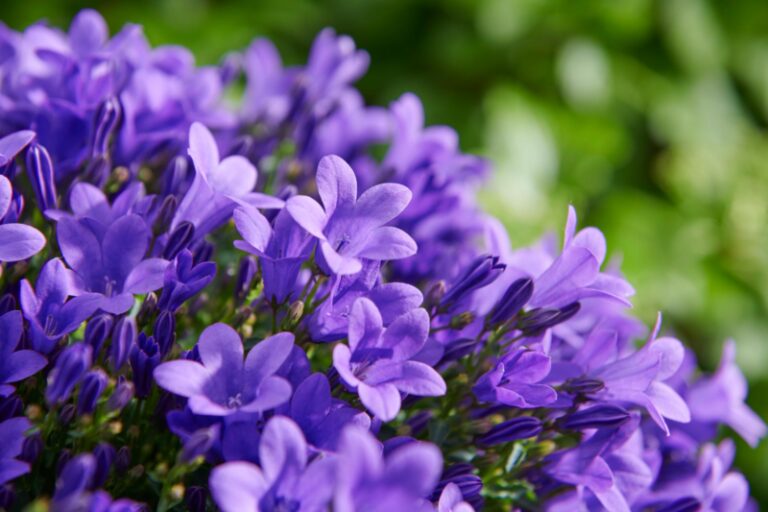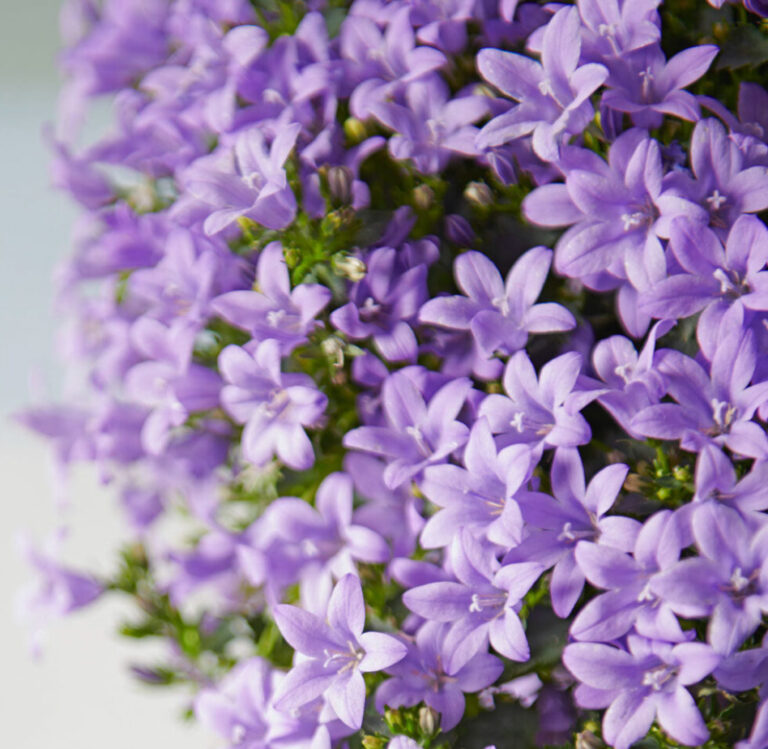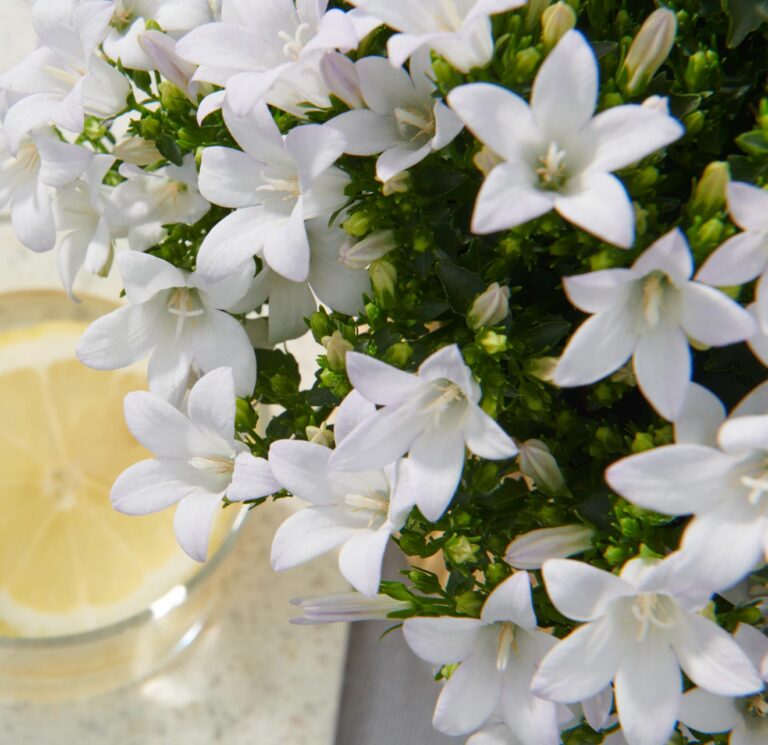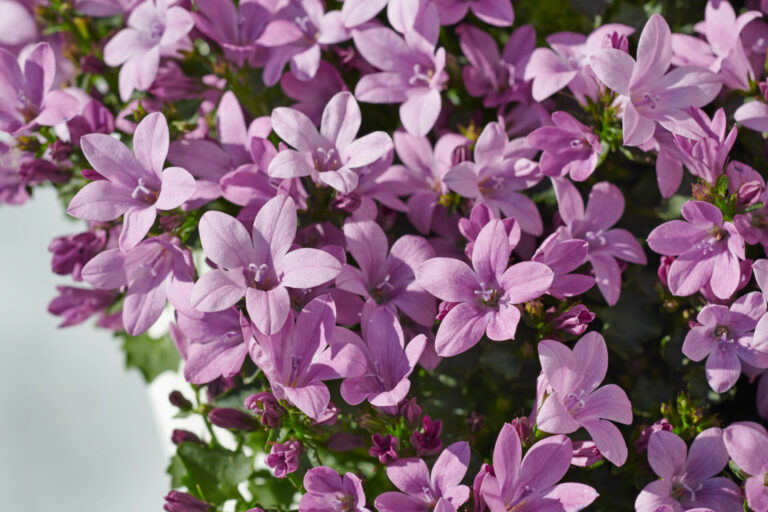 Bell-shaped flowers and spherical growth
Fabulous on the patio
Flower for a long time and for years
Butterflies and bees are my best friends vlinders zijn mijn beste vrienden
Shop Ambella
Enjoy a flowering garden
Campanula Adansa® is a lively whirlwind. Her star shaped flowers will lead you on a merry chase through your garden. Adansa® is a downward growing plant with tumbling tendrils. It is available in three beautiful colours: purple, white and pink. The white heart at the core of the flower is a distinctive feature of Adansa®. With its trailing habit, Adansa® is a perfect ground cover that thrives in borders. Adansa®'s true beauty will really shine if you place her in a hanging basket.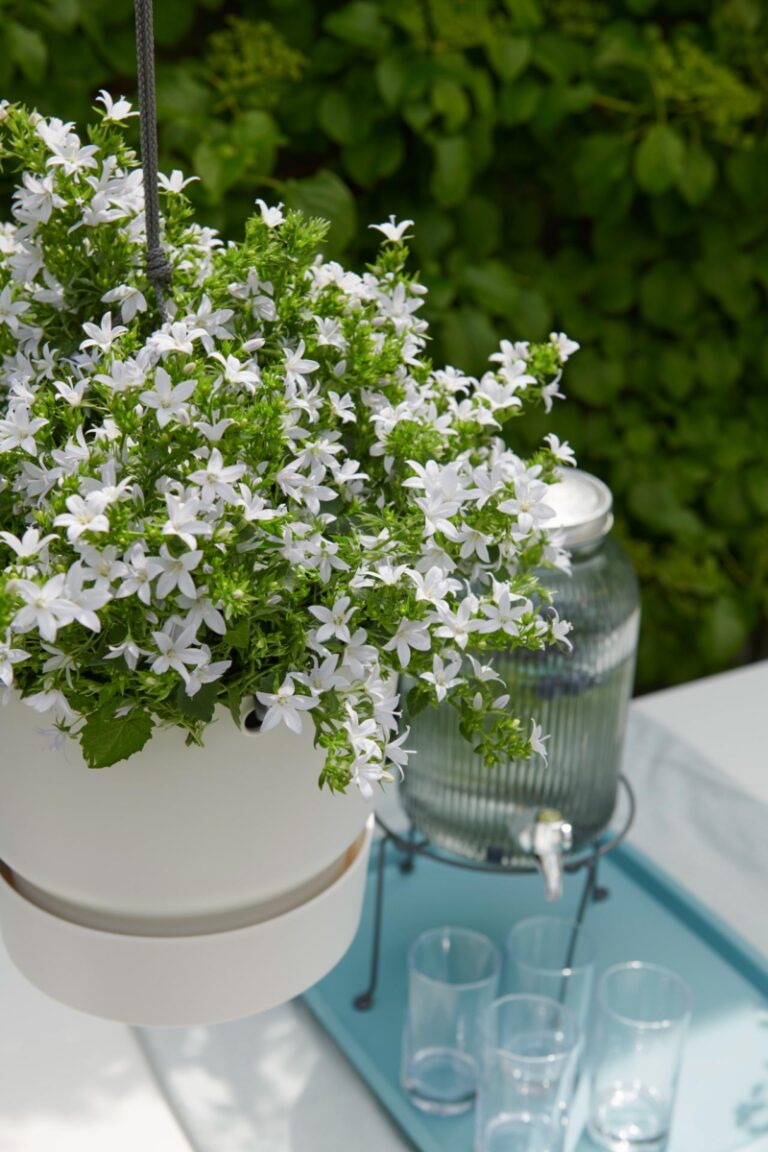 Star-shaped flowers and lush growth
Perfect as ground cover and gorgeous in hanging pots
Flower for a long time and for years
Butterflies and bees are my best friends
Shop Adansa
Discover the differences between Ambella® and Adansa®
In the video, we show you exactly what the difference is between these two Campanula varieties.
Get involved and create a green garden with Campanula!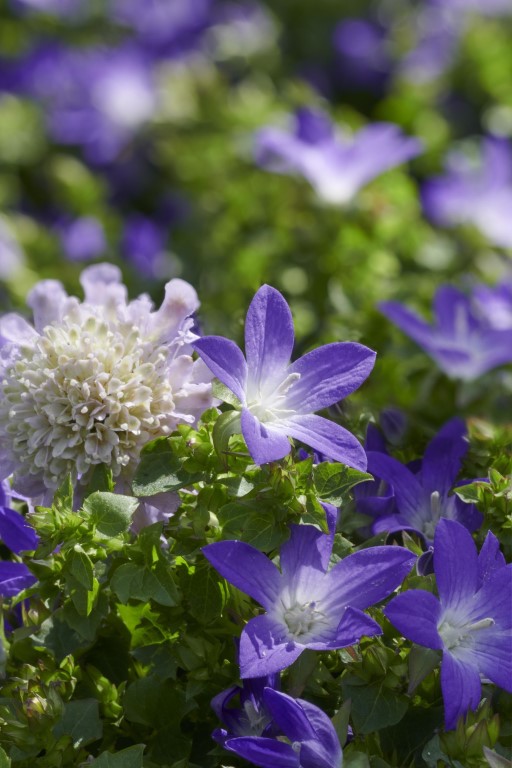 Campanula is a perennial and therefore a sustainable plant
So what exactly is a perennial? Perennials are non-woody plants that can flower more than once during their lifespan and live for more than two years. In spring, perennials will come back bigger and more vigorously, ensuring long garden enjoyment each year.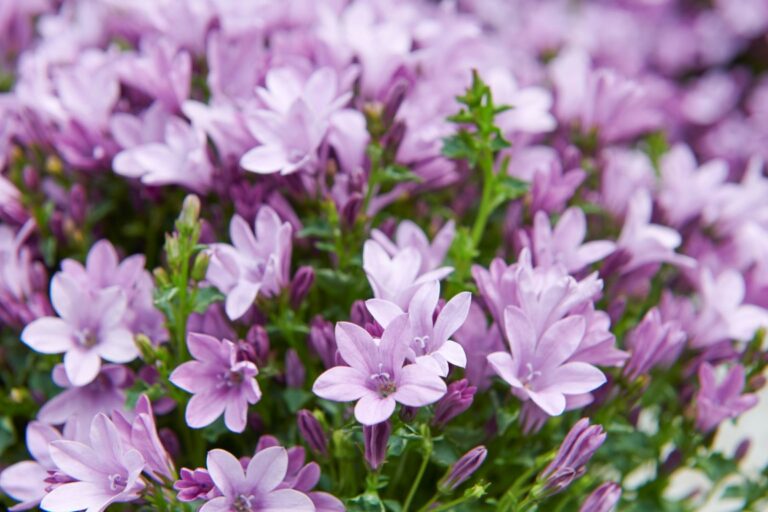 Campanula is very hardy and can tolerate temperatures as low as -35 degrees Celsius
Campanula takes a break in winter and will show its beautiful flowers again in spring. This is great for you, but also good for nature and a perfect food source for insects. Bees and other insects will enjoy every Campanula in the garden thanks to its long flowering period!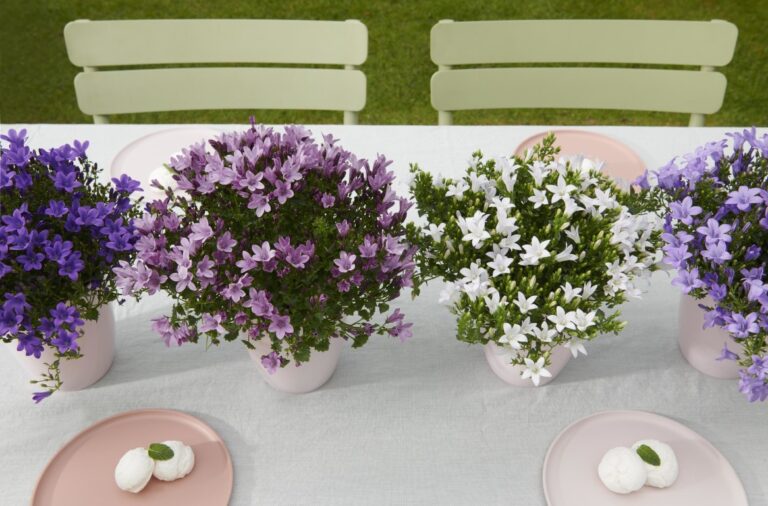 Campanulas will flower for 4-6 weeks, several times a year
depending on when you buy the plants. If you buy them in spring, you will enjoy Campanula for a very long time and it will flower as many as 3-4 times a year. If you buy Campanula a little later in the season, it may flower a little less often, but will eventually return in the new year to show its flowers 3 times.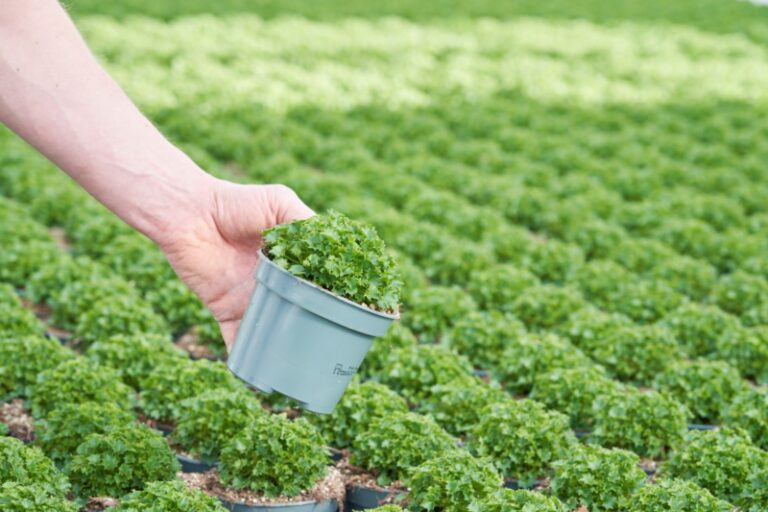 Campanula is an evergreen plant
In the winter it will hibernate, but keep its beautiful green colour. In other words, Campanula provides year-round greenery in your garden.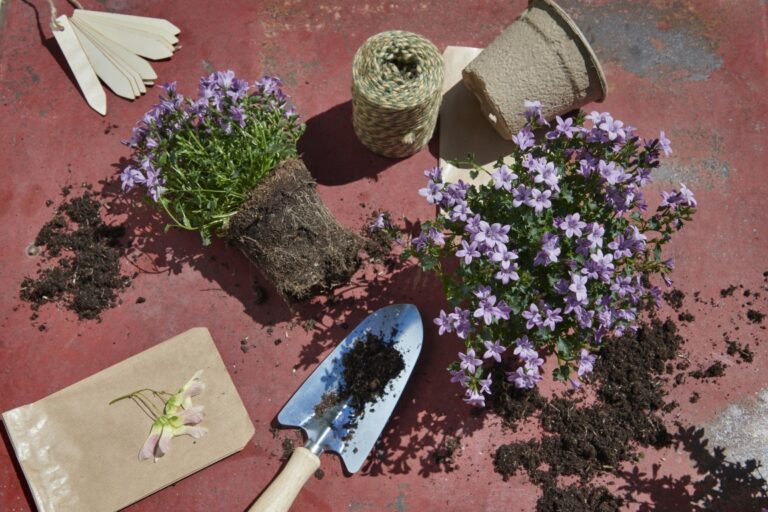 Campanula Adansa® as a natural weed killer!
If you place an Adansa® plant in the open soil, it will cover the ground with its creeping habit and ensure that weeds have no chance!